Home | Nikki | Creative Emotions | Tribute
EELA CRAIG
An extract taken from an interview with Hubert Bognermayr shortly before his death.
To read the full interview

CLICK HERE
Hubert's musical career started in the early 1960's with the formation of the group Jupiter, a dance band which received vast recognition in his home town of Linz. A business trip to London changed his direction after seeing the band King Crimson play at the then - famous Marquee Club in 1968.
This band had a great influence on Hubert and he consequently formed Eela Craig. King Crimson made him think about the Austrian attitude to music which was heavily oriented towards the classics. He wanted to pioneer a mixture of classical and electronic rock. Other memorable bands he mentioned were Pink Floyd, Cream, Peter Gabriel and Genesis, all of whom have an echo of recognition in his music.
The success of Eela Craig went on to see over 400 concerts in Europe and the release of three CDs. Hubert's active roles in the band were providing both the rock voice on many of the tracks and, for the first four years, he was the group's manager. Only after major success did he pass the role on to the German company, Agentur Schlote, in 1978. The formation of Eela Craig was the basis for his present career.
---
To read more about the history of Eela Craig, scroll down!
"However, Eela Craig produced a masterpiece never achieved afterwards. It was critically acclaimed higher than Emerson, Lake and Palmer's "Tarkus" and is a collectors' item nowadays worth about US500 dollars. This debut was simply called "Eela Craig" and was released in an edition of 1,500 copies which sold out within a few weeks."
---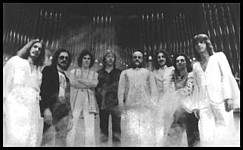 ---
The History of Eela Craig
Taken from the CD inlay of the CD "Eela Craig"
EELA CRAIG was formed at the beginning of 1970 in Linz, Austria. Aiming at high artistic standards, they performed an independent mixture of psychedelic, progressive rock, classical music, electronics, jazz and blues with highly artistic demands. Their outstanding drummer Horst Waber whose passion was jazz and the all-round musician Harald Zuschrader on organ, guitar, flute and sax had both been members of the band Melodias where they were mainly playing Beatles songs. Hubert Bognermayr on keyboards came from another Linz beat band called the Jupiters whose idols had been The Equals and The Hollies, but in the course of time, he came to prefer the more monumental sound of Procol Harum and Pink Floyd. Gerhard Englisch on bass won the Austrian youth championship for accordion, admired King Crimson and Gentle Giant. Heinz Gerstmair on guitar, organ and vocals was deeply rooted in the blues tradition and often went to London to refine his guitar skills accompanying Eddy Boyd and Champion Jack Dupree amongst others. It was Gerhard Englisch and Heinz Gerstmair who invented the band's name Eela Craig which is a name without any meaning. Their first ever gig, in the famous Rosenstueberl in Linz in 1970, was recorded and broadcast live by the ORF, the Austrian radio and television station. This alone is a sufficient proof of the high reputation of the new band, some of whose (by now well-known members) had enjoyed a thorough musical education at the Bruckner Academy of Music in Linz. Some months later Wil Orthofer joined the band as singer and also played sax, he had been touring with Guru Guru Groove at the time when Eela Craig had been formed. The group payed high attention to their equipment which was self built in the early days, but soon they bought a gigantic amount of equipment in Munich and London worth 250,000 DM at that time - with a weight of 2,3 tons of cables which had an on-stage length of 1,8km. Dr Alfred Paschek started to manage the band. He was an acknowledged composer for New Music and a recognised publisher, together with his avantgardistic ideas, he helped the band to develop. Right from the start Eela Craig played their own compositions only. The first album was recorded during the summer of 1971 supervised by Klaus Schwaiger. The recordings took place under difficult circumstances: some musicians were connected only by headphones as they had been placed in different rooms. However Eela Craig produced a masterpiece never achieved afterwards. It was critically acclaimed higher than Emerson, Lake and Palmer's "Tarkus" and is a collectors' item nowadays worth about US500 dollars. This debut was simply called "Eela Craig" and was released in an edition of 1,500 copies which sold out within a few weeks. A re-issue was long overdue and appears here now for the first time on CD, with four bonus tracks. As the master tapes were lost, the digital remastering had to be done from a brand new vinyl album by means of the NoNoise system of Cedar that extinguishes any surface noise and interpolates the empty places so that master tape quality is achieved. By the way, the sleeve was done by Horst Waber. Magazine reviews praised the debut comparing it to Colesseum, King Crimson and Emerson, Lake and Palmer.
In 1972, musical differences turned up. While Horst Waber, Heinz Gerstmair and Wil Orthofer preferred to play the blues, Harald Zuschrader, Hubert Bognermayr and Gerhard Englisch continued with the name Eela Craig to perform their symphonic and electronic sound. The others moved on to form Ice Planet icluding Fred Guschlbauer and Hansi Butt, but the band split after these two members died in two car crashes a few years later without even releasing a record. Joe Drobar was added to Eela Craig on drums. This line up performed Alfred Peschek's opus "Dimensionen zwischen Pop and Klassik" (Dimensions between Pop and Classical Music). The first two bonus tracks on this CD were recorded at the Linz concert but completely reworked by Hubert Bognermayr. It was sponsored by the state of Upper Austria and donated to Dr Alfred Peschek; the CD "Dimensionen" was released which is hard to find for the collector. Eela Craig's twenty minute part of this opus is included on this CD. Harald Zuschrader left the band shortly after these gigs for two years. Eela Craig added Fritz Riedelberger on guitar, mellotrone, congas and as singer and Hubert Schauer was responsible for the equipment. In 1974 Eela Craig independently released the single "Stories/Cheese" in an edition of 5,000 copies, worth US30 dollars nowadays. The master tapes of these tracks don't exist anymore. Therefore, they had also to be decrackled and are in the final tracks on this CD. The mellotrone was played then by all members apart from the drummer. From 10.01.1974 on ORF, Linz offered Eela Craig a weekly radio play time of twenty minutes. This privilege was unique in Europe. At the end of 1974, Joe Drobar quit and planned his own band together with his brother. His replacement Frank Hueber was found in a competition contest.
Signing a contract with the progressive label Vertigo in 1975 meant international breakthrough. In 1976, Eela Craig released the well made symphonic rock LP "One Niter." Wil Orthofer joined the band on the album "Hats of Glass" in early 1978 again, but the progressive influences lost their meaning more and more. By the way, Harald Zuschrader reworked the new recording of "Cheese." Special attention was drawn by their 1978 LP "Missa Universalis," a symphonic concept album in four languages which was enriched by Bruckner adaptions. Although the Christian lyrics may disgust some critical and enlightened thinkers, the music was acceptable. In 1979 Hubert Bognermayr left the band following internal disputes, followed by Frank Hueber who got ear problems from the steady noise concentration and had to be operated on afterwards. He was replaced by Wil Orthofer on drums. The follow-up album from 1980, "Virgin Oiland" on Ariola, was a bit disappointing, although it was musically very skilful and as always, it narrated the history of earth and mankind in a melodramatic way. The new year saw the release of the single "Mo-bike Jive" / "Carry On" which did not appear on the album. However Ariola did not allow them to add any tack to this CD. Afterwards Eela Craig did not officially disband, but they stopped gigging. It was not before 1987 that Wil Orthofer and Hubert Schnauer together with Gery Moder on guitar recorded four silly singles and released in 1988 a middle of the road pop album called "Hit or Miss" which was righteously ignored. The only connection to the early Eela Craig was based on the name and had nothing to do with their original music. It was not until 17/11/1995 that Eela Craig reunited for a concert in Linz which was taped and will perhaps be released on CD later.
After Hubert Bognermayr left Eela Craig he formed the electronic and new age label Erdenklang together with Ulrich Ruetzel and released the following albums with Harald Zuschrader: "Eerdenklang" in 1982, "Bergpredigt" in 1983 and "Sternenklang" in 1991, "Blue Chip Orchestra" a self-titled album in 1988 and "Blue Danube" in 1991. On some of these they worked together with Joe Drobar and Alois Janetschko. In the fall of 1997, the Blue Chip Orchestra released the album "White River, Red Spirit" on Erdenklang.
In 1979 Hubert Bognermayr founded the worldwide acknowledged Ars Electronica festival and also the Linzer Klangwolke and in 1989, the Blue Chip Academy. Heinz Gerstmair works nowadays independently and plays th eguitar and writes songs for fun. Gerhard Englisch owns one of the biggest Austrian equipment and light show companies. Harald Zuschrader is professor for music, has his own sound studios and has produced gold and platinum records with several artists. Wil Orghofer continued producing music and works as a writer and arranger. He released two CDs with world music in limited editions of 1,000 copies each: "Bed of Roses" independently released in 1995 and "Libero" in 1996. Horst Waber was a successful architect until he got sick with multiple sclerosis. All royalties gained from this CD are donated to him